Do you want to bring some

fun

,

color


and

creative play

into your journaling practice?
The Musings Adventure Journal gives you just the right space
to go on a colorful & fun musings adventure!
Details to order your Musings Adventure Journal below.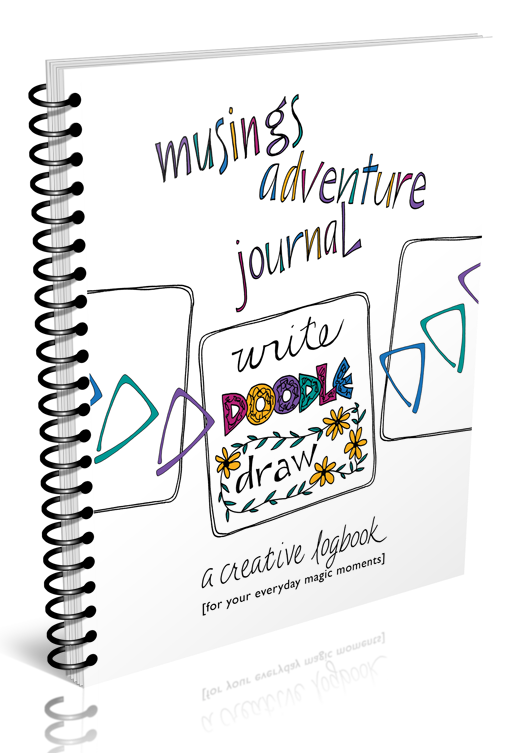 This creative logbook offers a fun and simple format to help you capture your everyday magic moments.

My musings adventure practice began many years ago, although did not call it that back then. I first started with day planners that I bought. I'd log my workouts, my adventures, my thoughts, and feelings. Soon these day planners began to feel restrictive, especially because they never gave me the same space for each day of the week. I almost started believing they were made for people who didn't like the weekend – and fun and play.
After I was sure I wasn't going to find the kind of journal I needed to fulfill my desire for a different kind of space, I began creating my own design, using blank spiral bound journals. I experimented with how I wanted to use the space, creating each week by hand. Creating week by week and month by month, I was perpetually behind and sloppy. And so the Daily Musings Journal, which offered a dated year-long musings adventure experience, was born. After 5 years of publishing this dated version, I am no longer doing this. And you can still create the same experience with the Musings Adventure Journal!
It is also a relatively 'blank canvas' with
hand-drawn boxes set-up in week spreads
56 weeks in all
no dates
You get to decide when and how
to capture your everyday magic moments.
Four versions of week spreads give you a bit of variety for your adventure — and the possibilities are endless, really…
add color, sketches, words & doodles…
remember your travels
track how your garden grows
remember mother–daughter moments
make a doodle a day
track sensations (some call it pain) if you're on a healing journey
what did I put in my mouth?
gratitudes
quotes
[fill in your idea]
…or whatever inspires you on a given day!
Inspiration to get your musings adventure started is also included!!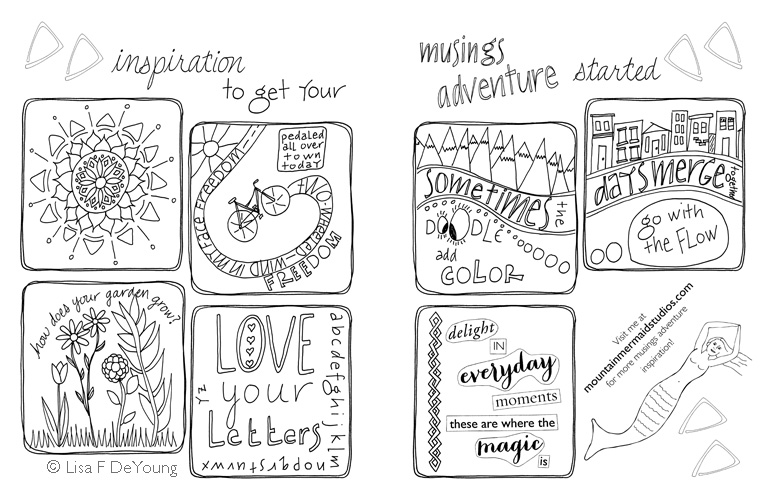 I love to doodle about my ski days, bicycle rides, hikes, and other adventures in the outdoors; I like to muse on the creative process to capture ideas I have for sharing with you, dear creative soul. My musings journal helps me sense the passage of time while capturing my everyday magic moments.
Do you wish to have a different kind of space for your musings, a journal that makes the whole practice of journaling more fun – and simple?
If yes, come on in and start your own musings adventure!
The Musings Adventure Journal includes:
136 pages plus cover – 7″w x 9″h wire-o bound
Nice 80# opaque text stock for all your musings
56 week spreads
A hand-drawn space for each day of each week
No dates so you can jump in and out any time.
Enough space to add color, sketches, notes, ideas, etc
Two color-in triangle mandalas
14 spacious musings pages, including one at the back to test media you may want to try
Two sticker sheets with fun doodles to cut out and add to your adventure
Inspiration to get your musings adventure started in the form of a doodled week spread
The clean black and white design lends itself – begs, really, for color! Thin line markers and colored pencils work really well. It's also fun to use a plain old lead pencil to create a lovely monochromatic look.
If this journal sounds, feels and looks like something that will give you fun space to muse and create in grab your copy today! Oh, don't forget that the Musings Adventure Journal also makes a great gift – for that graduate, gardener, mom – or any creative soul – in your life (wink wink! :) )
$29 each
(includes Priority Mail shipping within the Continental U.S.)

(PLEASE NOTE: THE PRICE OF SHIPPING CONTINUES TO RISE – THE JOURNAL PRICE HAS GONE UP TO ACCOMMODATE SHIPPING 😐)
NOTE to Coloradoans outside of Salida: I am no longer able to sell and ship within the state (outside of Salida, CO) because of the state sales tax regulation. These regulations make it too complex for a one-woman shop to administer. Thank you for your understanding and support!