The 2015 Daily Musings Journal is coming!
Click here to sign-up for the early bird special list.
Scroll down to get an idea of what you'll find in the Daily Musings Journal.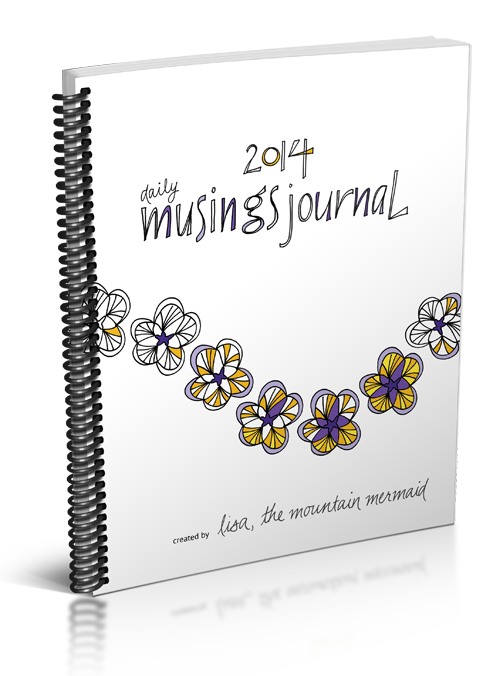 It's here! I'm so excited to share with you my 2014 Daily Musings Journal. The Story I've been creating forms of this journal for many years now. I started with day planners that I bought – to track my adventures, thoughts and feelings. These day planners began to feel restrictive – especially because they never gave me the same space for each day of the week. A few years ago I began creating my own design – using a blank spiral bound journal I had made. I experimented with how I wanted to use the space, creating each week by hand. How I use my daily journal is constantly evolving, but I've settled on a design that, at least for now, I love! Creating by week and by month I am perpetually behind and get sloppy – so my motives were partly selfish. This year I decided I needed to have the entire next year created – before the new year starts. And I really wanted to share! I thought, there must be others of you out there that would love to have some open, yet defined, space on which to muse about your daily adventures, thoughts, feelings, gratitudes and more! We can begin this adventure together – with the whole year ahead of us!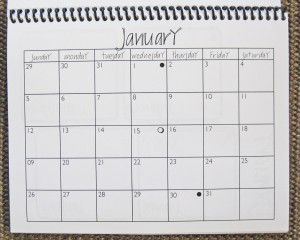 The 2014 Daily Musings Journal is:
a place for reflection
a tool for self-discovery
a space to capture memories
a tool for tracking (food, exercise, feelings, gratitudes, ____________(fill in your need))
create your one sentence journal (inspired by Gretchen Rubin)
write a haiku a day
add color to your week
Check out my blog posts with ideas for playing in the 2014 Daily Musing Journal. The 2014 Daily Musings Journal includes:
7″w x 9″h – 136 pages + cover
16 musings pages (one to begin each month, and a few extra at the front and back)
a month calendar for each month of 2014; new moon & full moon noted for each month
a spread for each week of 2014
a hand-drawn space for each day of each week
space to add color, sketches, notes, ideas, etc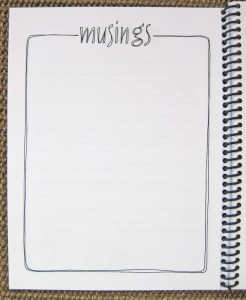 All the lettering that looks hand-drawn – these words, along with the boxes, were all hand-drawn by yours truly, Lisa – the mountain mermaid. The clean black & white design lends itself – begs, really, for color! Thin line markers and colored pencils work really well. To create a lovely monochromatic look, it's also fun to use a plain old lead pencil.
The 2015 Daily Musings Journal is coming!
Click here to sign-up for the early bird special list.
If this journal sounds, looks and feels like something that will give you fun space to create in 2014, I hope you'll make one your own. Details to purchase are just below!
$28/each

Live outside the U.S.? I'd love for you to have one of my journals, too. Please email me at lisa (at) mountainmermaidstudios (dot) com with your shipping address so I can work out the shipping cost – then I can send you an invoice via paypal, and get your order in the works! Thank you so much! P.S. Subscribe to receive updates from me (to the right in the sidebar) and you'll receive my beautiful Musings Play Sheet.